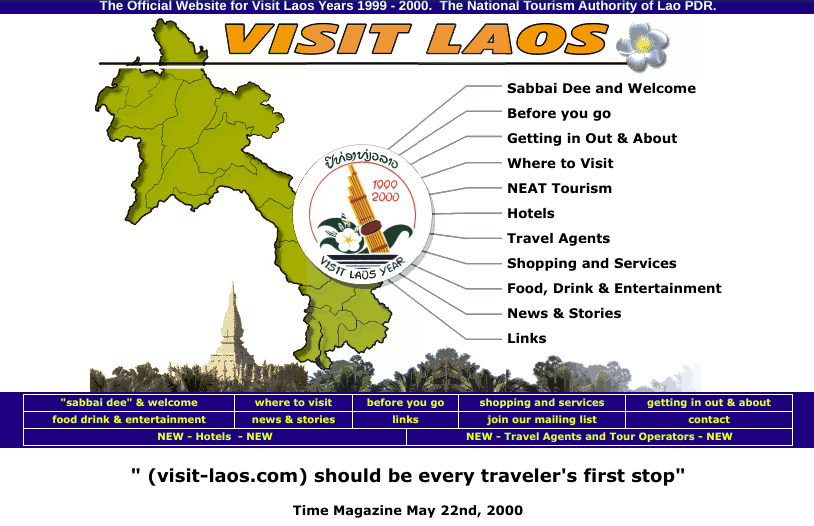 In 1999, I made a deal with the Lao Government to produce a website for their Visit Laos Years 1999 – 2000. They were trying to promote tourism in the country but had no budget to speak of. All of the marketing spend was in country. I proposed to build an official website for them at no cost, but allowing my consultancy business to make revenue from it.
It was early days of the Internet. Images and copy were very limited. Lao had very few visitors but the country was opening up. I started by knocking on doors and selling 'web pages' to local businesses in Vientiane. I then took on a salesperson to work in Vientiane and subcontracted the advertising pages to others. The site was very successful and well received. Most of the businesses in Vientiane that were involved in tourism became customers.
In those days, very few people had Internet access in Lao. There were a couple of 'internet cafes' with really slow connections. Some people used to get an internet account in Thailand and make an international dial up call with their modems.
A hotelier who had a small hotel decided to pay for four pages of advertising. A few months later at a travel seminar in Vientiane, he stood up and told the audience that he used to be able to fill three or four rooms a night from walk ins. Since he advertised on the site, his hotel was always at 100% occupancy.
You can see an early version of the site here.
I sold out my consultancy business and became part of Asia Web Direct, an online hotel booking company. visit-laos.com and other sites we built are are now part of Expedia.